By default, the Sam360 Management Point communicates with the Sam360 cloud platform using an encrypted data channel running over the http and https ports. It uploads registration, inventory and software usage data. It receives configuration data.
However, in certain circumstances, the Sam360 Management Point can operate without any communication with Sam360 servers. All gathered inventory data is cached in the Management Point Uploads folder.
To configure the Management Point to not connect to the Sam360 cloud platform, a single change to the registry configuration data is required. A 'reg' file that makes the appropriate change can be found below. There are different files for disabling/re-enabling communication on 32 & 64 bit versions of Windows.
The registry configuration is read as the Management Point process starts. Either make the registry change before installing the Management Point or if it is already installed, make the registry change and then kill the Sam360 processes (s3service.exe, s3mp.exe & s3agent.exe) Restart the Sam360 service. It will automatically restart the Management Point as necessary.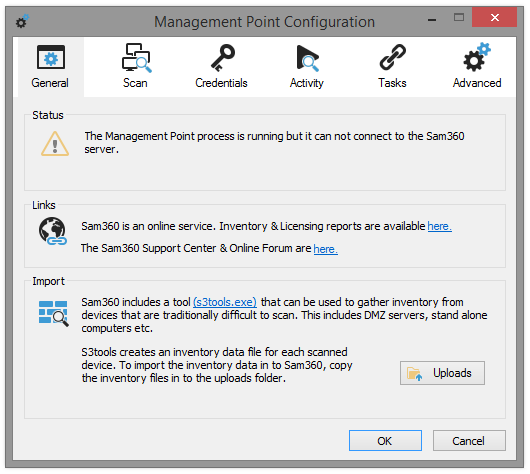 It's possible to verify that the Management Point is not connected to the Sam360 cloud platform. Start the Management Point Configuration Tool (details here.) Verify that under the Status section, it reads 'The Management Point process is running but it can not connect to the Sam360 server'
Registry files to enable and disable communications are available here. HttpCommsEnableDisable.zip